How Do You Deal With Fake Reviews on Google Business and How to Remove Them – Duggystone Radio
Written by kirk on January 9, 2020
The Intro to the Show
Let's start with some stats (always a good place)
86% of potential  consumers will check  local businesses reviews
89% of consumers read businesses' responses to reviews
40% of consumers only take into account reviews written within the last two weeks
57% of consumers will only go with a business if it has 4 or more stars
91% of 20-35-year-old trust online reviews
Potential customers  read about 10 online reviews  trusting a local business
Small to medium businesses cannot afford negative reviews which as you can see from the stats can drastically affect new customer calls.
one of the friends of duggystone radio Metal Man Fabs, in Jan, received a number of fake reviews that really affected his score on google Business, so much so it inspired this blog and the radio show we did.
The link below if you want to hear it
The Advert we created for Metal Man Fabs (Would you like one well click here for more info)
MANAGING YOUR REP ON GOOGLE BUSINESS
Never just respond to bad reviews. Make a point to respond to all reviews,  good or bad, at all times. Even where nothing was said but someone left you stars, reply to it. This will encourage extra feedback in situations where nothing was said its gets the reviewers to expand on questions about the product/services they received or purchased from you. All reviews (try to use the reference  to your products and services)it helps your local SEO rankings as well as providing potential leads with more information about what you do.
like Metal Man Fabs getting fake reviews will upset a conscientious business owner. These fake or negative reviews and you know what? You are able to remove them.
It's not as easy as clicking "remove," but you do have the ability to remove any reviews that violate Google's policies for leaving reviews.
That includes the removal of fake reviews from people who never did business with you. There are a few different ways to do this.
Check  if it is a Review is Fake
Obviously, negative reviews are not always fake we all mess up no one is perfect. but don't ignore these either. Respond to the review on Google, and then follow-up with that unhappy customer with a phone call to ensure you have a  remedy for the situation.
When you think you may have a fake Google review, here are a few things you can check to make sure:
Check any CRM system you use, to rule them out as a customer
Check  if they rang customer services or emailed the business (that matches the detail they provided)
Do they have any details of who they spoke to or dealt with their purchase (Product or service)
have you had a lot of negative reviews in a short space of time (in Metal Man's example he had several in a few minutes apart)
Do they mention a competitor with a positive experience (this could be your competitor trying to stick the knife in)
How to Report a Fake Google Review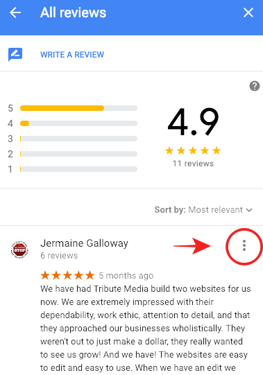 There are a couple of ways to get rid of those pesky fake reviews.
Go to the review on Google Maps. Click on the vertical dots in the top right of the review, and then click "Flag as inappropriate." Only do this if you are confident it's fake. Google is likely to penalize you if you have an excess of reviews that you are flagging and they turn out to be legitimate.
If a competitor is behind the fake negative reviews, the first step is to contact them and request that they stop the activity and ask to remove the fake reviews. if they are reluctant to do this, you always have the option of reporting them business bureaus or organizations like the local Chamber of Commerce.
How to Remove Negative Google Reviews
The only way to have a negative Google review removed is if it violates their guidelines.
Spam and fake content: Any false content intended to boost rankings falls in this category.
Off-topic: If the content includes irrelevant personal, social, or political commentary, it can be removed.
Restricted content
Illegal content
Sexually explicit content
Offensive content
Dangerous & derogatory content
Impersonation
Conflict of interest: You cannot review your own business, or have employees review your business or a competitors business.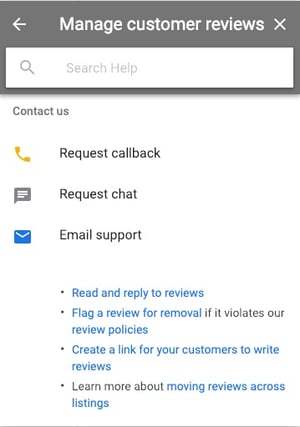 Follow the step above to first flag the negative review you want to be removed. Then go through the following process to contact Google about taking it down:
Go to your Google My Business profile
Click on "Support" on the bottom left navigation panel
When the help box pops up, click-through "Need more help," then "customer reviews and photos," then "manage customer reviews," then "email support."
Make sure you've compiled enough information to support your case and send it off.
If you have enough evidence to prove the review is slander against your company, you can fill out a google form
Use Positive To Counter Act the Negative Ones!
So if you only have a few reviews and get a number of negative ones it will really affect your ranking and potential SEO results with Google. So a good practice is to ask all customers past and present to leave a google review, remember people are busy and won't go searching so a good practice is to send them the link to your google business link.
remember the stats a lot of customers won't engage with a business if their ranking is below 4, so the more customers you get to leave reviews the easier it is to absorb the odd "Fake Review"
we have business show on the station Tuesdays and Thursdays 10 am UK time on
or say "Alexa Open Internet Radio"
or you can find old show on our PODCAST page HERE
Our Landing page or radio adverts
---
Reader's opinions
---